eBrevia
Increase efficiency and accuracy with our award-winning AI-powered contract analytics software. Automate data extraction and analysis in agreements for due diligence, lease abstraction, LIBOR, and more.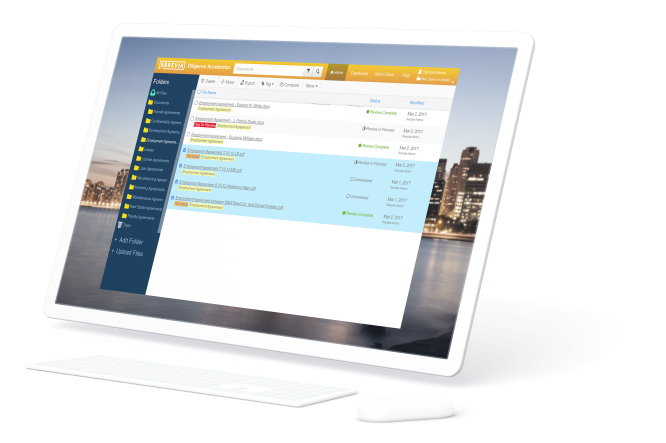 How much time could eBrevia save you?
Tell us how many contracts your team is reviewing for a given deal or project and we'll calculate your potential time savings in hard numbers.*





# of contracts
Save valuable time you can put toward other transactions, achieve significant cost savings from increased efficiency, and market your company's use of technology and innovation as a competitive advantage.
See how eBrevia brings unprecedented speed and accuracy
to contract analysis.
Download a fact sheet with your results
* Based on industry standards.
Machine learning is a type of AI, which focuses on the study of algorithms. Tour our interactive infographic to learn how machine learning powers DFIN's eBrevia tool.
Just a few of the industry leaders who count on eBrevia to automate contract review:








eBrevia identifies and extracts information from current and legacy contracts to reduce review time by 30-90% percent.
With eBrevia, part of DFIN's portfolio of end-to-end solutions, you can:
Ensure that key contractual data is never missed, and that your business decisions are fully-informed.
Close deals faster, with unprecedented accuracy and efficiency.
Reduce the time and cost associated with contract review.
Leverage industry expertise to analyze contracts using custom terms.
Contract Management & Digitization
Reduce risks. Contain costs. Reveal opportunities.
eBrevia uses advanced machine learning and AI to extract key information from current and legacy contracts within minutes. Ensure that key contractual data and commitments are not missed while gaining insights into your relationships with customers, vendors, partners, and third parties. Minimize your risks, uncover hidden costs and opportunities, and make better informed business decisions.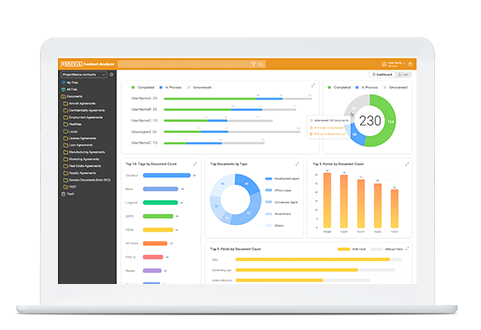 M&A & Other Transactional Diligence
Accelerate review. Identify risks earlier. Reduce costs.
Reduce the time and costs of M&A and other transactional diligence review, while increasing accuracy. As a subsidiary of DFIN, a global leader in financial compliance services, eBrevia is a key part of a suite of integrated solutions specifically designed for M&A and other transactional diligence. This expertise has made eBrevia a leading choice for M&A and other transactional diligence review.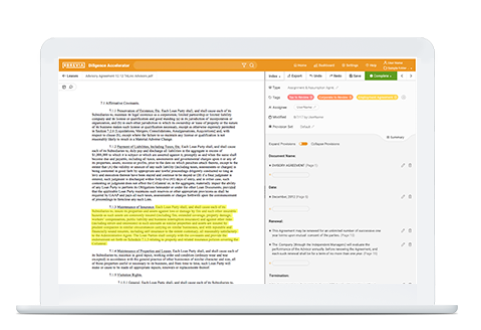 Audit & Compliance
Streamline review. Manage deadlines. Accelerate transitions.
State and federal laws and regulations can change from year to year. A major change can require a company's reviewers to access, extract and summarize hundreds to hundreds of thousands of contracts. Failure to complete a timely review can lead to non-compliance, risk exposure due to missed obligations and liabilities, and/or losing out on lucrative revenue opportunities.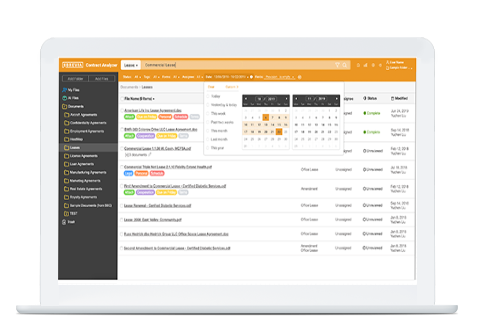 Bankruptcies & Restructuring
Identify risks. Uncover opportunities. Make informed decisions.
When sudden changes in the global marketplace or business environment occur, companies can face unexpected financial challenges. Some may have to file insolvency proceedings, while others face the challenge of maintaining their financial obligations. eBrevia helps you make informed business decisions in a climate of fast-paced change.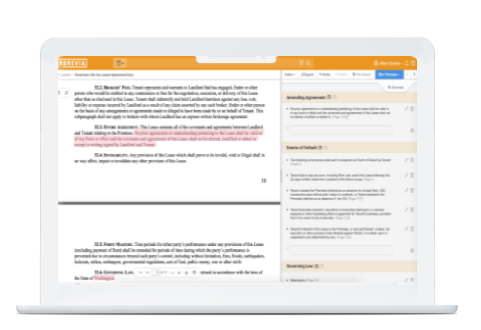 Real Estate & Other Leases
Reduce costs. Enhance efficiency. Improve accuracy.
Commercial real estate firms, landlords, tenants, and lenders, reduce the time and costs of manual contract review by leveraging eBrevia's AI-powered contract analytics for leases. eBrevia extracts information for lease compliance, lease audits, cost recovery, budgeting, and property management. Manage your lease portfolio with confidence by simultaneously reviewing and comparing leases.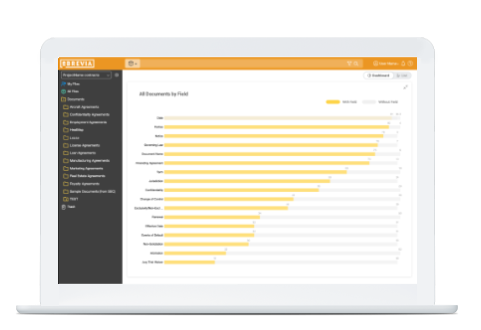 Bespoke
Customized to your needs. Intuitive interface. Precise.
Contract analytics tailored to meet your needs. eBrevia's ready-made solutions meet the needs of a variety of common use cases, but sometimes you need to analyze information unique to your company or project. Non-technical users can customize eBrevia to extract industry-specific terms with our Bespoke solution. Apply our machine learning technology to bring your contract review to the next level.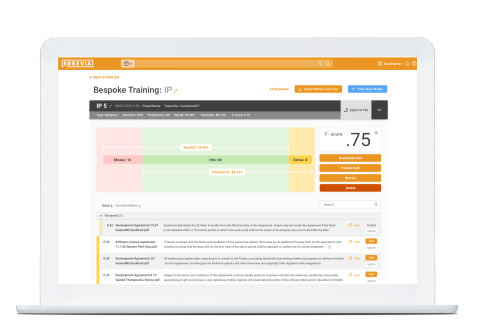 LIBOR Transition
Accelerate Preparation. Navigate Complexities. Increase Efficiency.
LIBOR is a reference rate for an estimated $350 trillion of loans, securities, and derivatives worldwide and at the end of 2021, it will cease publication. As time runs out to evaluate your organization's LIBOR exposure, solutions that accelerate the process are a necessity. eBrevia's clients are heavily leveraging the software to accelerate LIBOR-related review while increasing accuracy and reducing costs.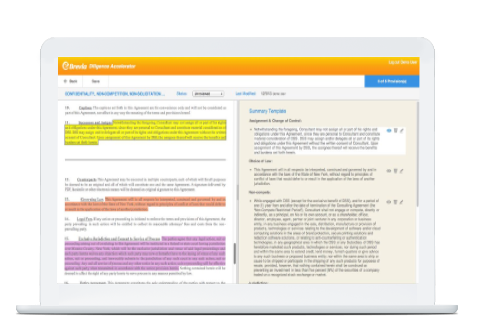 "Integrating eBrevia with our solutions has been instrumental in our drive to innovate and deliver greater value to PwC's clients."
Alexandre Blanc, PwC Principal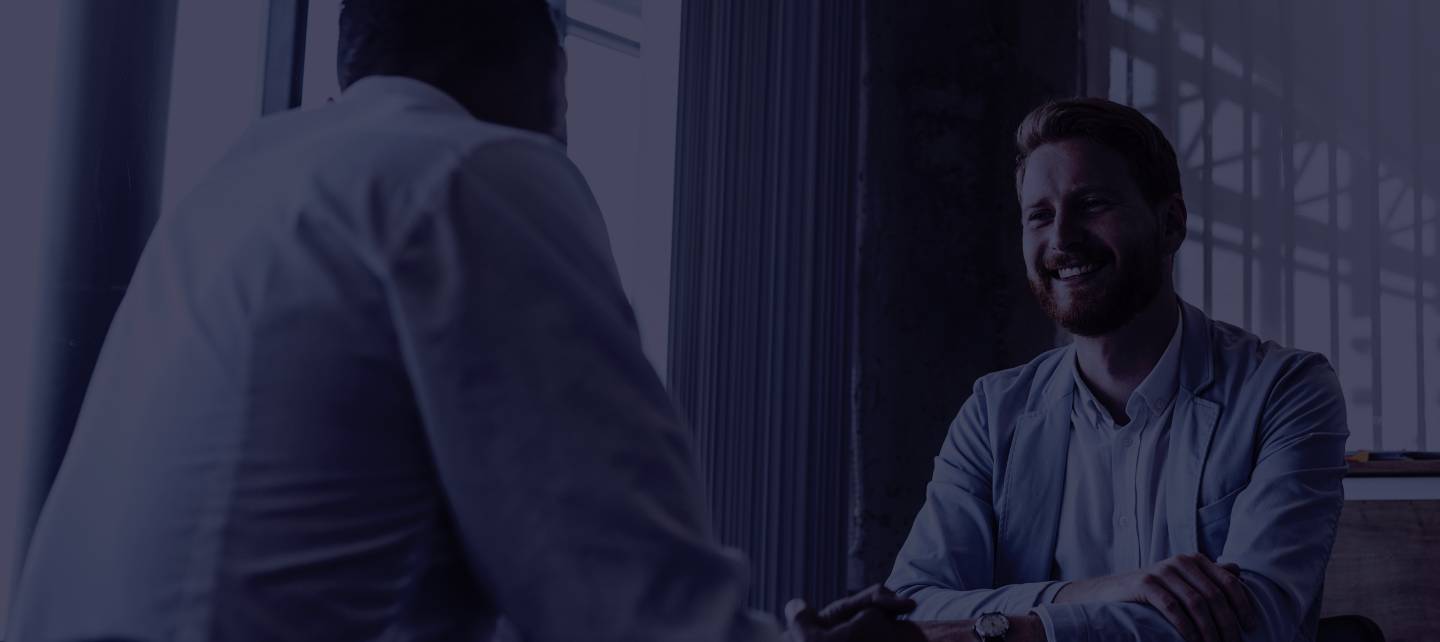 Explore our eBrevia resources