ArcPro®
Drive efficiency and eliminate risk with purpose-built content management.
As the market leader, DFIN knows that total control over your content matters the most - from anywhere, anytime. As part of DFIN's Arc Suite end-to-end solution, ArcPro offers intuitive, cloud-based workflow tools and managerial dashboards to streamline the review and approval process for prospectus building and a wide range of other regulatory communications.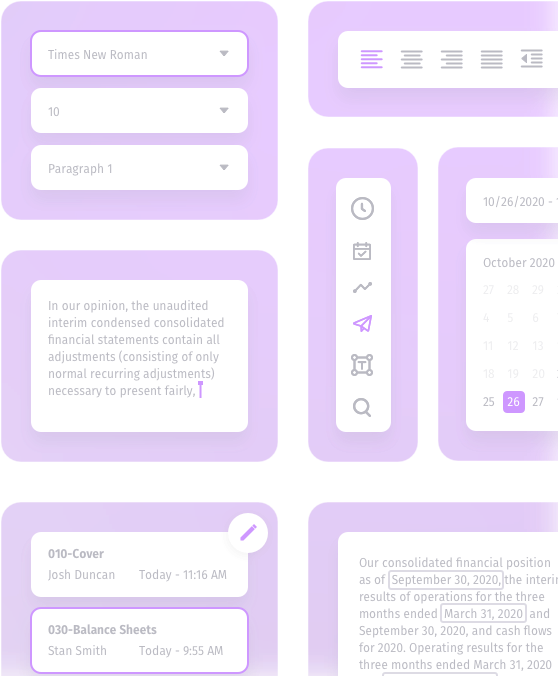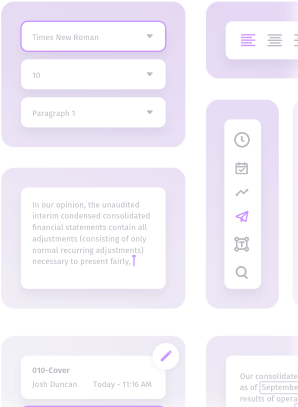 Experience the ArcPro difference.
See how the ArcPro shareholder compliance content management system provides a comprehensive solution for every step of the regulatory process.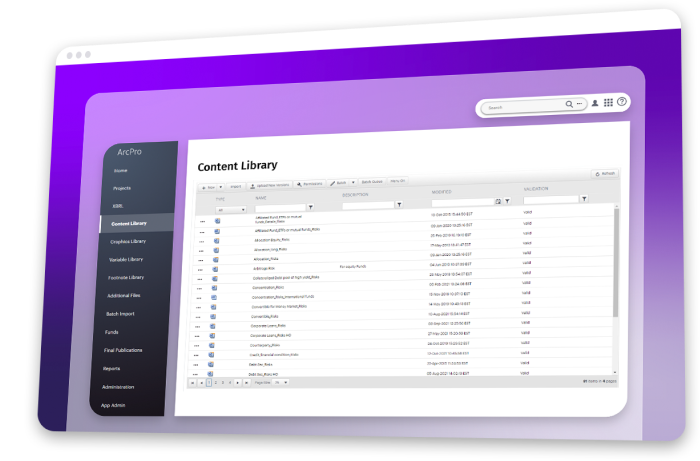 Real time, consistent shared content updating across all documents
Leverage variable content to vary language where appropriate
Utilise supplement functionality to update documents off cycle
Maintain strong version control and audit trail
Ingest, transform, and feed data to documents in real time
Produces highly stylised compliance output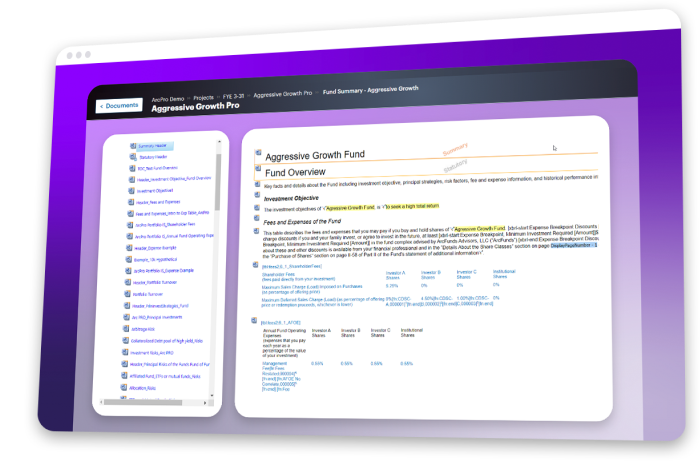 Automatically add, update, remove or move content in the summary prospectuses directly from the statutory prospectus
Include all appropriate linking and layered disclosure capabilities to satisfy summary prospectus requirements
Batch publish all summaries from one screen
Cross reference with other documents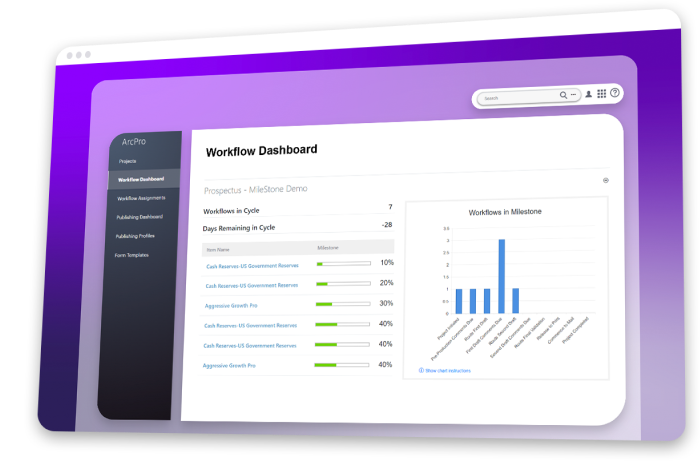 View managerial dashboard
Integrate email
Consolidate comments and maintain audit trail
Streamline and track document delivery
Approve, reject and certify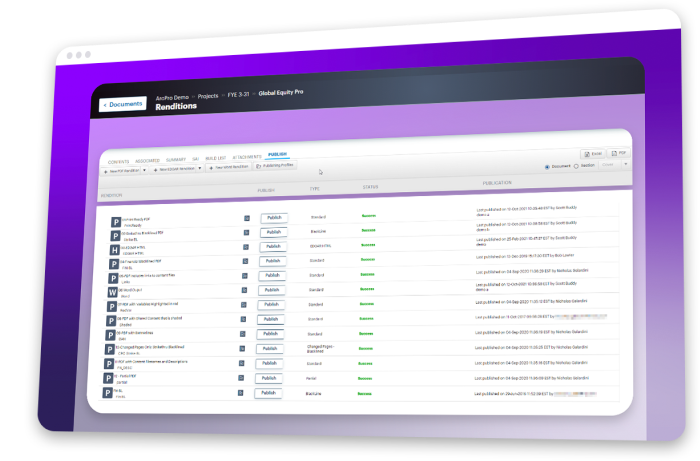 Produce high volume output
Incorporate template-driven, consistent stylised documents
Compare granular blacklines
Generate automated <R> EDGAR HTML
Experience automated charting
Publish to website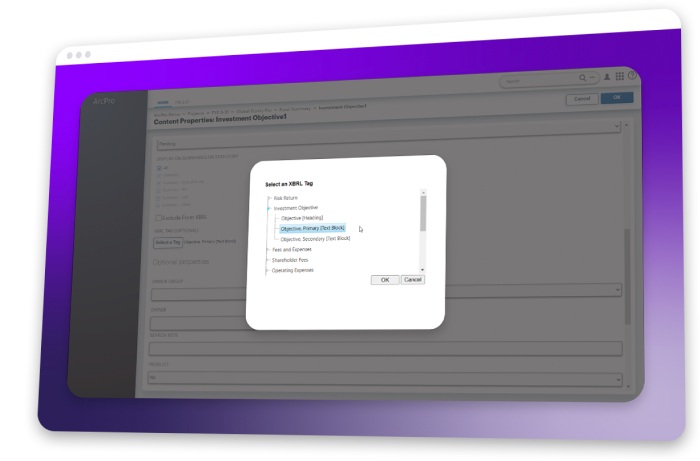 Retain tags year over year
Update with ease
Utilise table templates to automate table tagging
Publish ad-hoc in minutes
Confidently be SEC file-ready
Automated in-app iXBRL
Maximum efficiency and collaboration
Streamline the review and approval process, from anywhere with this cloud-based workflow solution. Reduce production timelines and trust that content is in sync, accurate and compliant.
Edit once, update many
Apply automated iXBRL tags once in shared content and they automatically appear where content is used. This iXBRL tagging software ensures text consistency across multiple documents.
Confidently automate and customise your project management with Workflow.
Get top-down visibility into your production cycles. Allow multiple contributors to review documents in parallel, identify bottlenecks and experience the efficiency of email integration, in addition to automated iXBRL tagging.

Workflow integrates with ArcPro and ArcReporting, our solution for producing shareholder reports.
View Workflow
Experience expert service and industry-leading support — every step of the way.
When you work with DFIN, you get: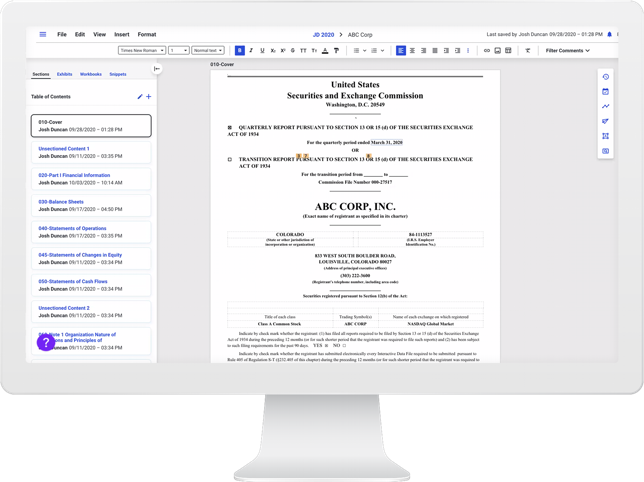 People ready to help 24/7/365

Access to expert iXBRL conversion services

A solution that incorporates the knowledge and experience of the largest EDGAR filer to the SEC
See how purpose-built content management drives efficiency and eliminates risk.