EDGAR® Online
Draw meaningful data from real-time SEC filings.
Whether you're conducting research to support an IPO, managing an annual proxy or licensing a data package for your own audience, EDGAR Online helps you efficiently extract the intelligence you need.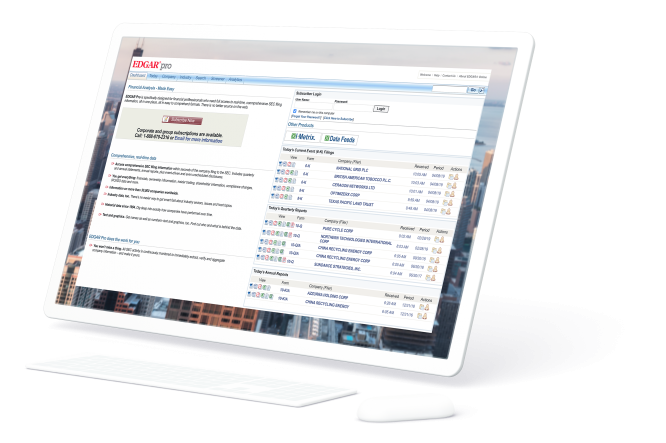 Just a few of the industry leaders who use EDGAR Online to uncover intelligence from SEC filing information:



Quick access to real-time data for easy side-by-side financial analysis and benchmarking.
With EDGAR Online, part of DFIN's portfolio of end-to-end solutions, you get:
Access to more than 15,000 companies that file in the U.S. with the SEC.
An online intelligence tool for global investors, analysts, lawyers, auditors and corporate executives.
A choice of individual subscriptions or custom enterprise data licenses.
DFIN experts ready to help.
Use EDGAR Pro to inform the creation of your S-1.
Create custom email alerts for peer SEC filing notifications to extract key information and help shape your IPO narrative. Custom dashboards help you quickly find and seamlessly repurpose data in specific sections of filings.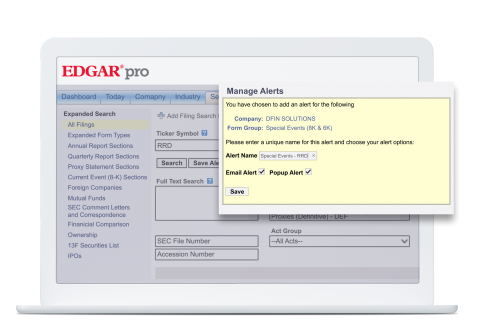 Use EDGAR Pro to gather the right details for your proxy.
Set up custom dashboards to view defined peer groups and access timely filings, including institutional ownership, and view ESG-related information from the proxy summaries. Get unlimited Word and Excel downloads and print from within the platform.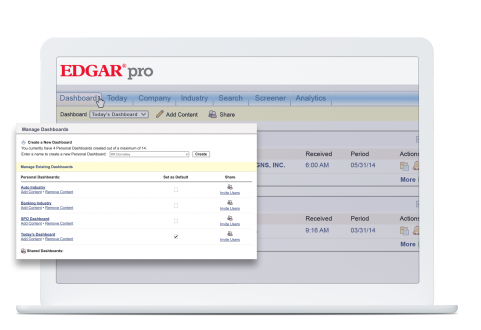 Use EDGAR Pro for financial reporting and benchmarking. 
Set up alerts to monitor and compare your own company's Ks and Qs with your peers' and competitors' filings. Get key information you need to prepare strategic analysis and recommendations or to help evaluate new business initiatives.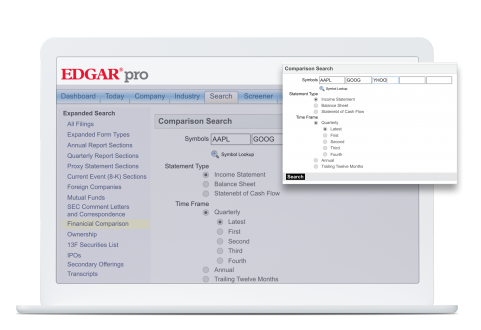 Extract and display SEC data exactly the way you want with the DataFied API.
Your customers need to understand their competition, reduce risk and remain compliant with changing regulations. The DataFied API, powered by EDGAR Online, transforms lengthy disclosure documents into digestible and relevant data sets.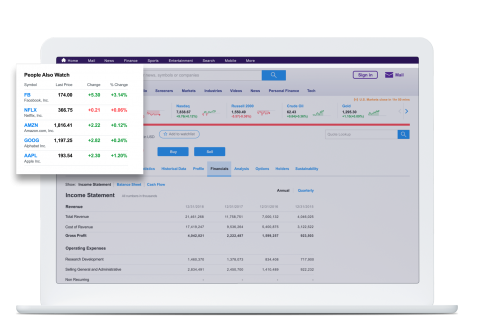 EDGAR® Pro
$1599.00


for an annual subscription
---
Start using EDGAR Pro immediately.
---
Comprehensive EDGAR SEC filing information.
Company data on over 15,000 U.S. public companies.
Historical data since 1994.
Insider and institutional ownership.
Company profiles.
Real-time alerts.
Download to PDF, Excel, Word, RTF and HTML.
Quickly and easily download or print up to 50 filings at one time.
Online support available.
EDGAR® Online DataFied API
Custom data package pricing available upon request
---
Learn more about custom API packages and pricing.
---
Streamlined access to financial data and information, extracted from SEC filings.
Configurable data packages, ensuring partners receive the specific data they need.
On-demand data for mobile applications with JSON and XML support in an easy to use format.
Improved documentation and sample calls for faster and easy onboarding.