Accelerate your deal process securely with our award-winning virtual data room.
Our quick set up and intuitive VDR platform leverages AI technology and machine learning to accelerate deal closing. Continually optimized for security, productivity and usability, our VDRs are reinforced by our regional experts--an extension of your deal team.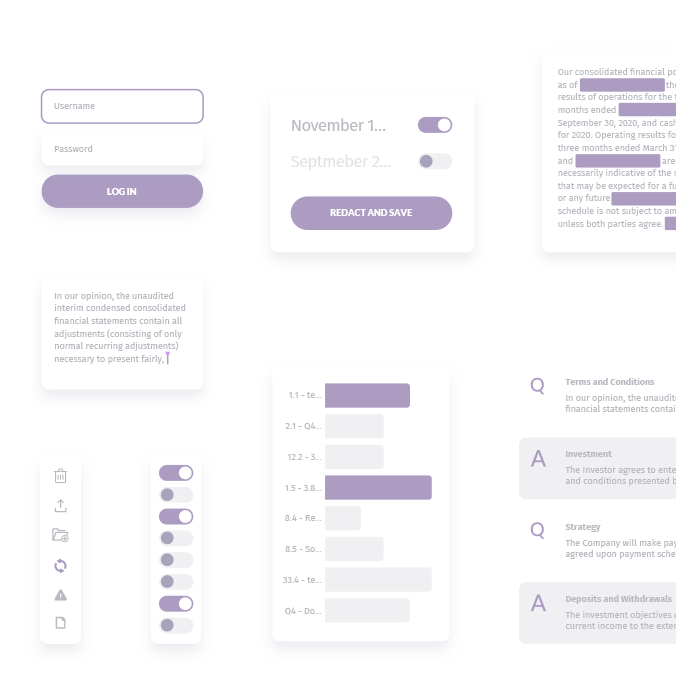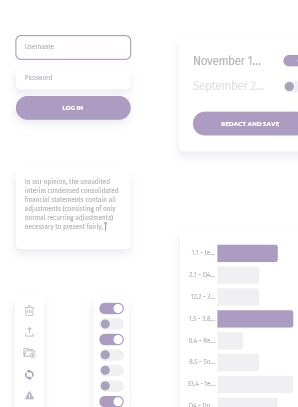 Our one-stop-shop platform is trusted globally by Fortune 1000 companies, Silicon Valley startups, PE firms, investment banks and government agencies to expedite the deal making process.
Get control and cost transparency. Our virtual deal room lets you quickly self-launch one or multiple deals, complete bulk uploads and get clear pricing with an instant file-level page count and more.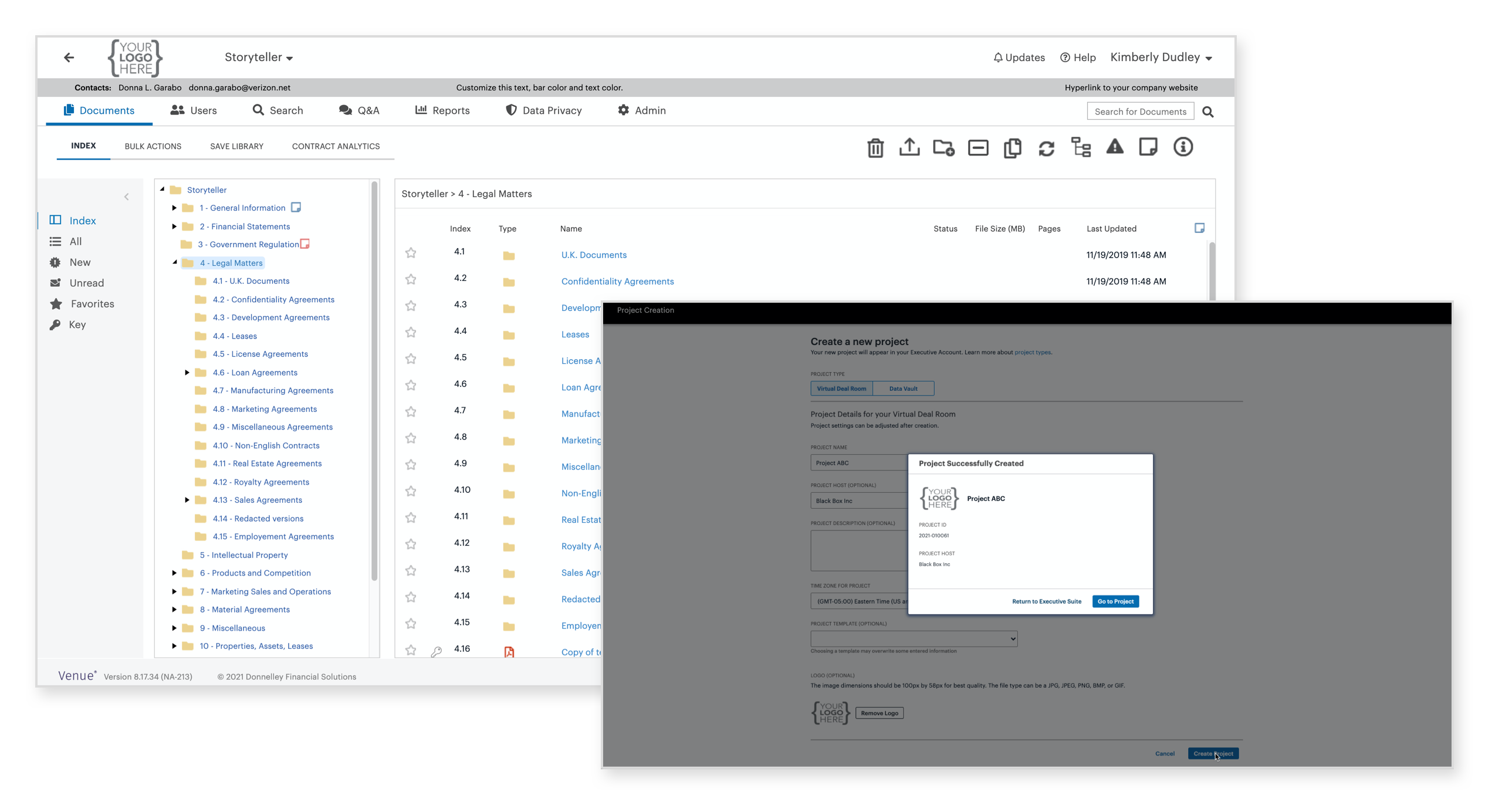 Easy set up – Venue's lightning-quick set up allows you to seamlessly focus on the deal. Instantly upload bulk documents and stay organized with a full folder arrangement view.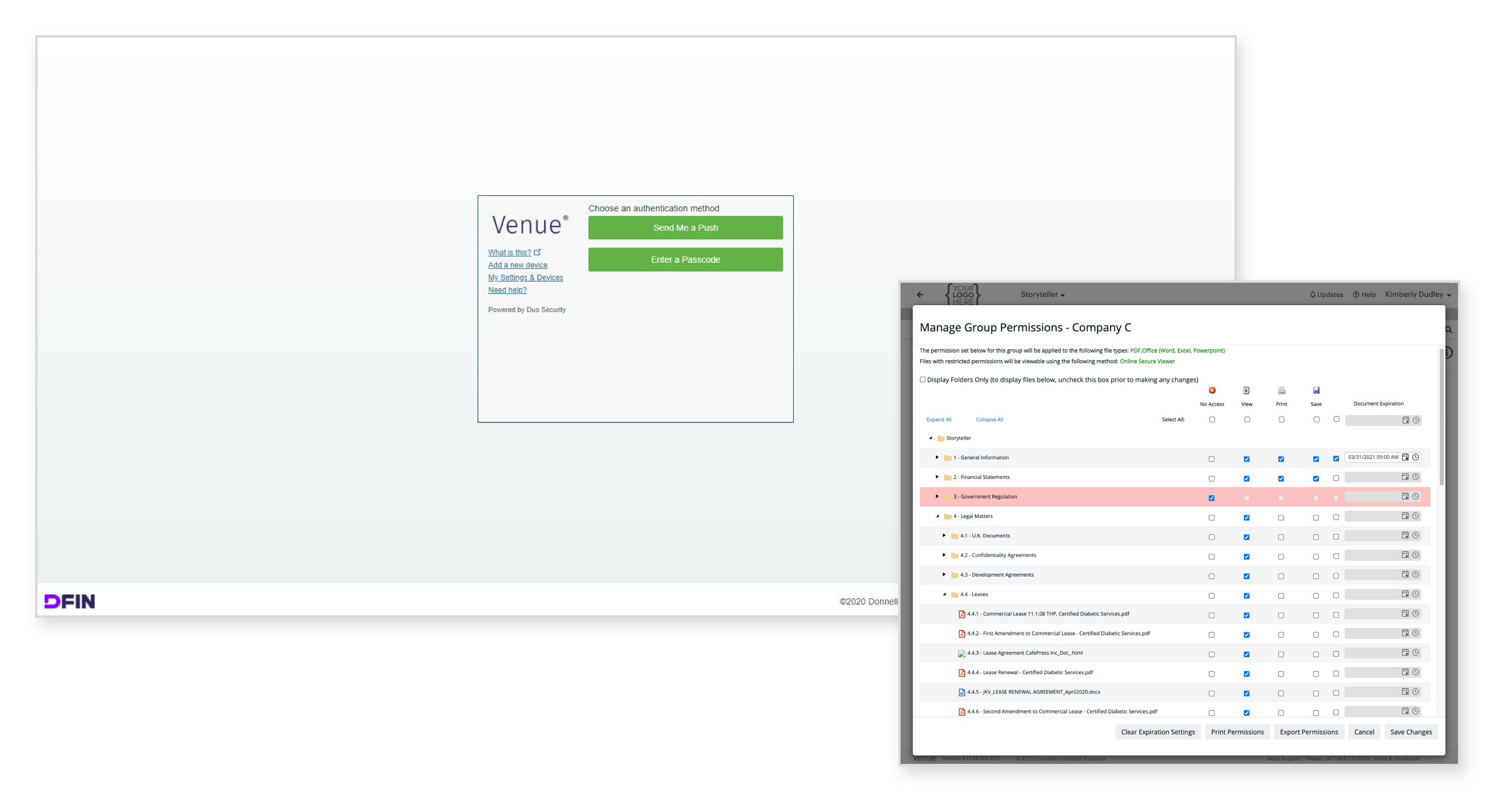 Security – Work at ease. Our platform safeguards you with:
Multi-factor authentication
256-bit encryption
Automatic watermarking
Delayed invitations
Symantec virus scanning
Easy to use permissions system
Highest levels of infrastructure security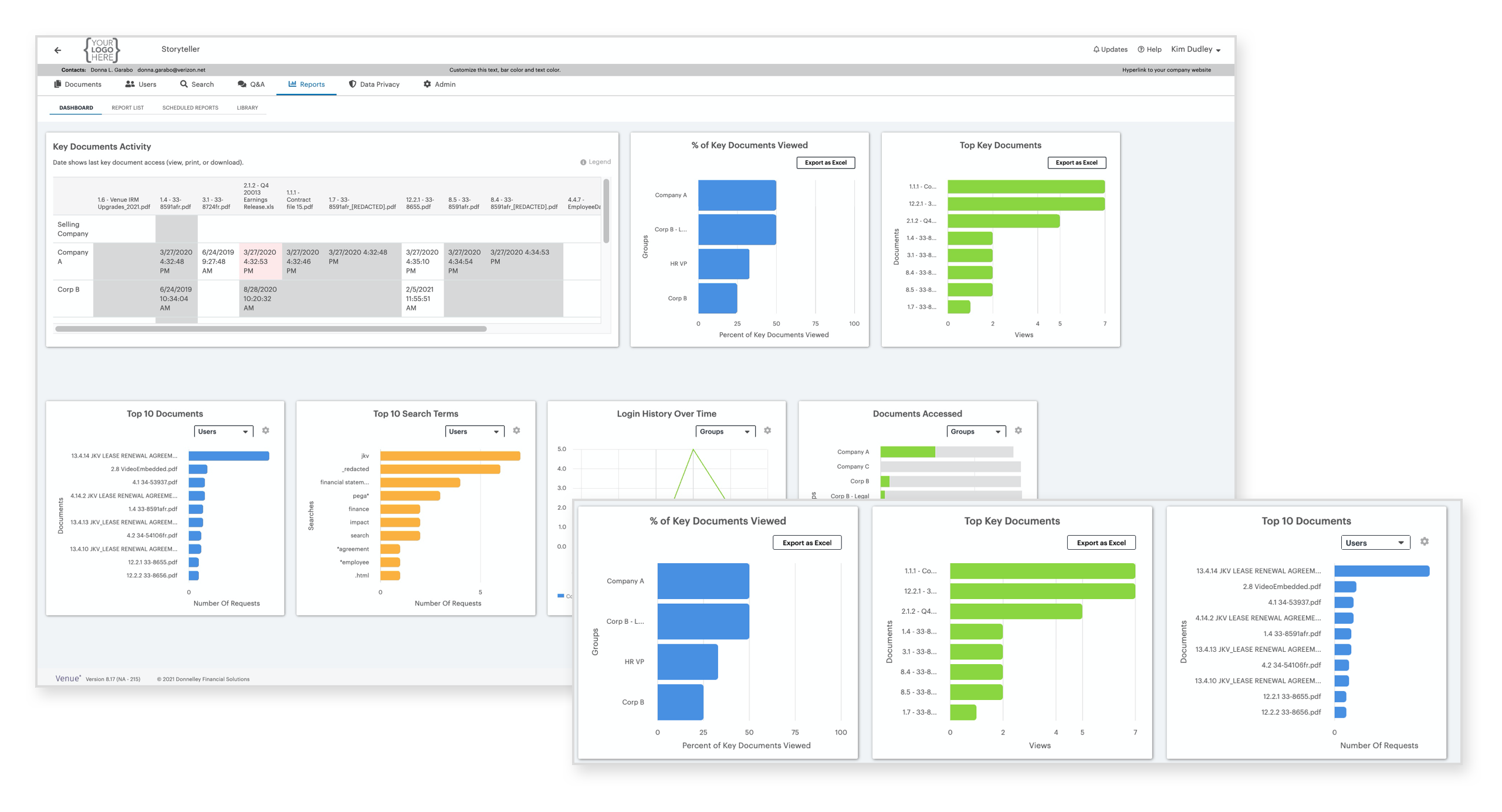 Reporting & Analytics - Receive on-demand intelligence, with accurate and insightful analytics on buyer behavior, optimizing follow-up time to move you closer to the deal.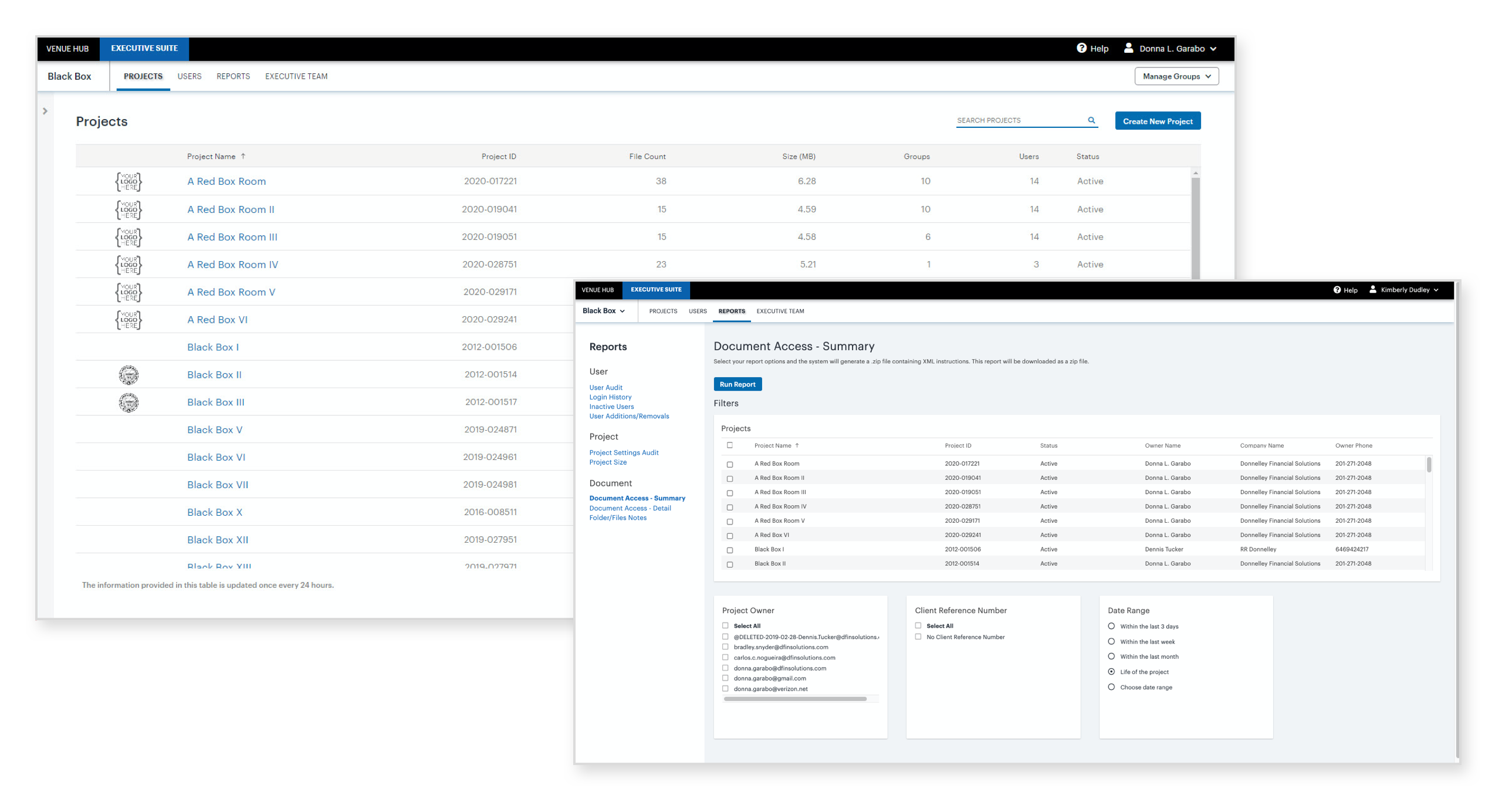 Power a More Efficient Workflow - Multi-deal management tools and scheduled reports provide transparency across projects. Oversee your pipeline with a bird's-eye-view, giving you an optimal perspective of buyer-behavior.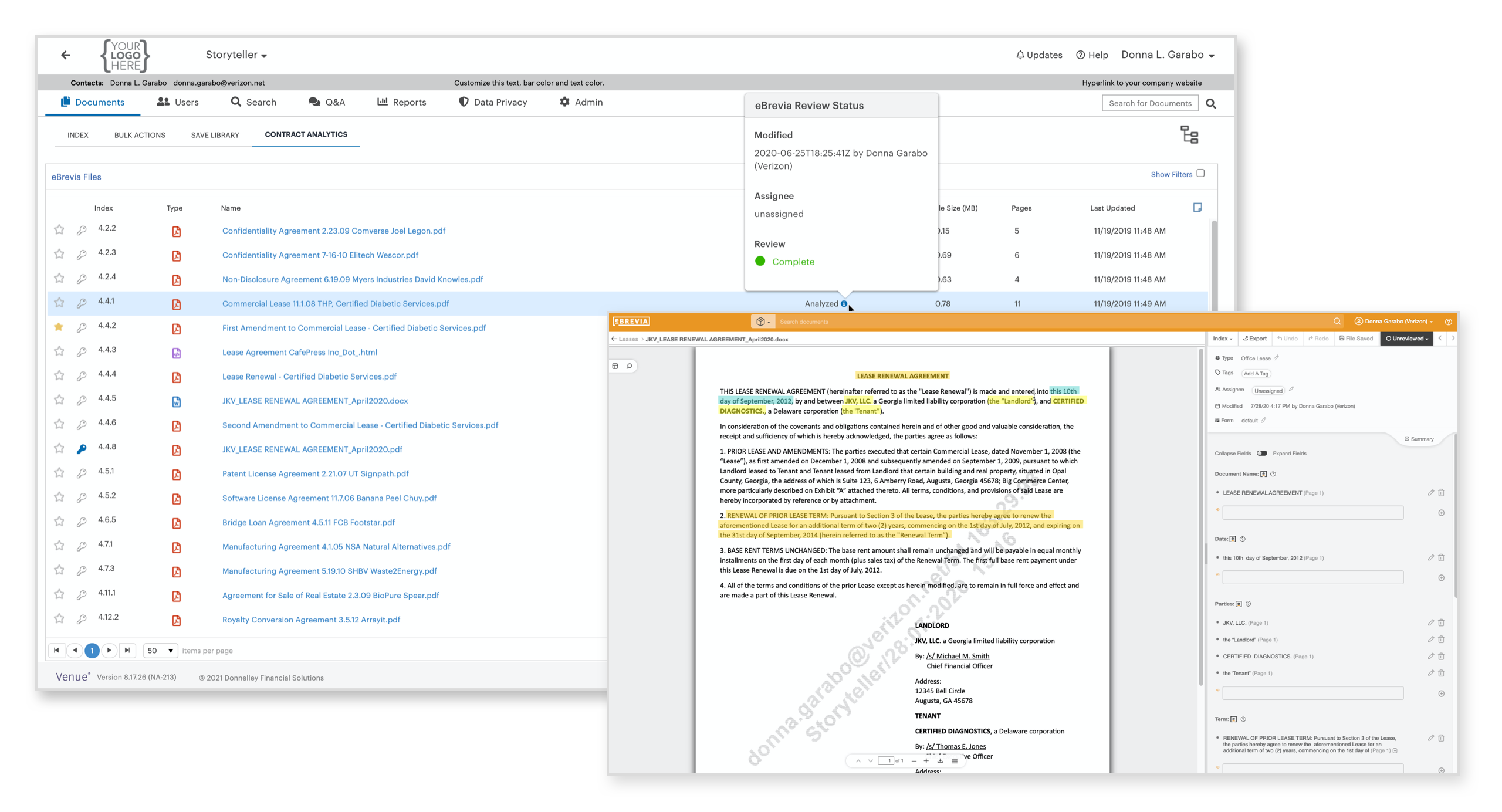 AI Contract Analytics - Shift from manual tasks to real strategy. Up to 90% faster and 10% more accurate than with a manual approach. AI contract analysis accelerates your due diligence and post-merger integration processes and allows you to:
Analyze 50+ files in less than a minute
Quickly find relevant provisions
Extract more than 115 types of data points
CASE STUDY

How We Helped a Leading Tech Platform Get Acquired by a Major Brand
Expand
CASE STUDY

How We Helped a Biopharma Company at Different Stages of Its Lifecycle
Expand
CASE STUDY

How Venue's High Security and Collaborative Design Delivered for Biopharma
Expand
Background
When Workfront received an unsolicited bid to acquire the company, they had to move fast to facilitate the due diligence process.
Challenge
Workfront needed to provide a secure platform to share documents and collaborate with multiple parties in a controlled manner.
Solution and Results
Workfront quickly set up a Venue data room to prepare for the upcoming M&A and be deal ready. Instant set up, an intuitive interface and 24/7/365 support streamlined a once complicated due diligence review process and ultimately helped drive the deal with Adobe across the finish line faster.
"You never know when you're going to need a data room, so you need one now. Filing in specific diligence requests is a lot easier when you have a running head start, and DFIN made it cost-effective for us to have their data room, Venue, at the ready. I'm grateful to DFIN for helping us to get the deal done."
- Steve Holsten,
General Counsel and Secretary, Workfront
Background
Biopharmaceutical company Synthorx had already used Venue when the company transitioned from private to public with a $151 million IPO in 2018.
Challenge
One year later, promising trial results meant that several major companies were interested in acquiring Synthorx. It needed a way to quickly respond to inquiries while maintaining confidentiality.
Solution and Results
Although the Synthorx transaction was exceptionally complicated—involving scores of regulatory documents, highly confidential clinical data that had not yet been made public, and compliance with European General Data Protection Regulation (GDPR)—Venue handled all the complexity and made the deal possible. In December 2019, Sanofi acquired Synthorx for $2.5 billion.
"When you have multiple potential buyers asking hundreds of questions every day, being able to easily upload and share the right information with the right people in a virtual data room is key to a smooth transaction. Several of the parties involved were already familiar with the Venue platform. We all felt very comfortable with the security and efficiency of Venue."
- Dr. Enoch Kariuki,
Synthorx
Background
When COVID-19 began shutting down most U.S. workplaces, California-based Leading BioSciences, Inc. (LBS) was in the midst of a vital Phase 2 clinical trial to test the efficacy of its main drug.
Challenge
A shutdown would have meant a delay or even an end to their study. To keep the study alive, LBS put DFIN's Venue to a novel use —sharing and managing clinical trial data — that revolutionized the way they do business.
Solution and Results
Venue's encrypted virtual data room met all of the stringent security requirements regarding patients' protected health information. Because the software was so intuitive and easy to use, workers at the study's 11 trial sites and independent study monitors quickly got up to speed.
"Working with DFIN's Venue left us questioning why we were doing things how we have always done them. Using the platform has certainly opened the eyes of our company and the industry in general. We found a new way to do business that offers efficiency and cost savings and is a long-term solution."
- Inge Bear,
Chief Development Officer, Leading BioSciences
Client Success Stories
Discover how DFIN enables clients to boost productivity, improve processes and deliver better results.
The
data room
built for
deals.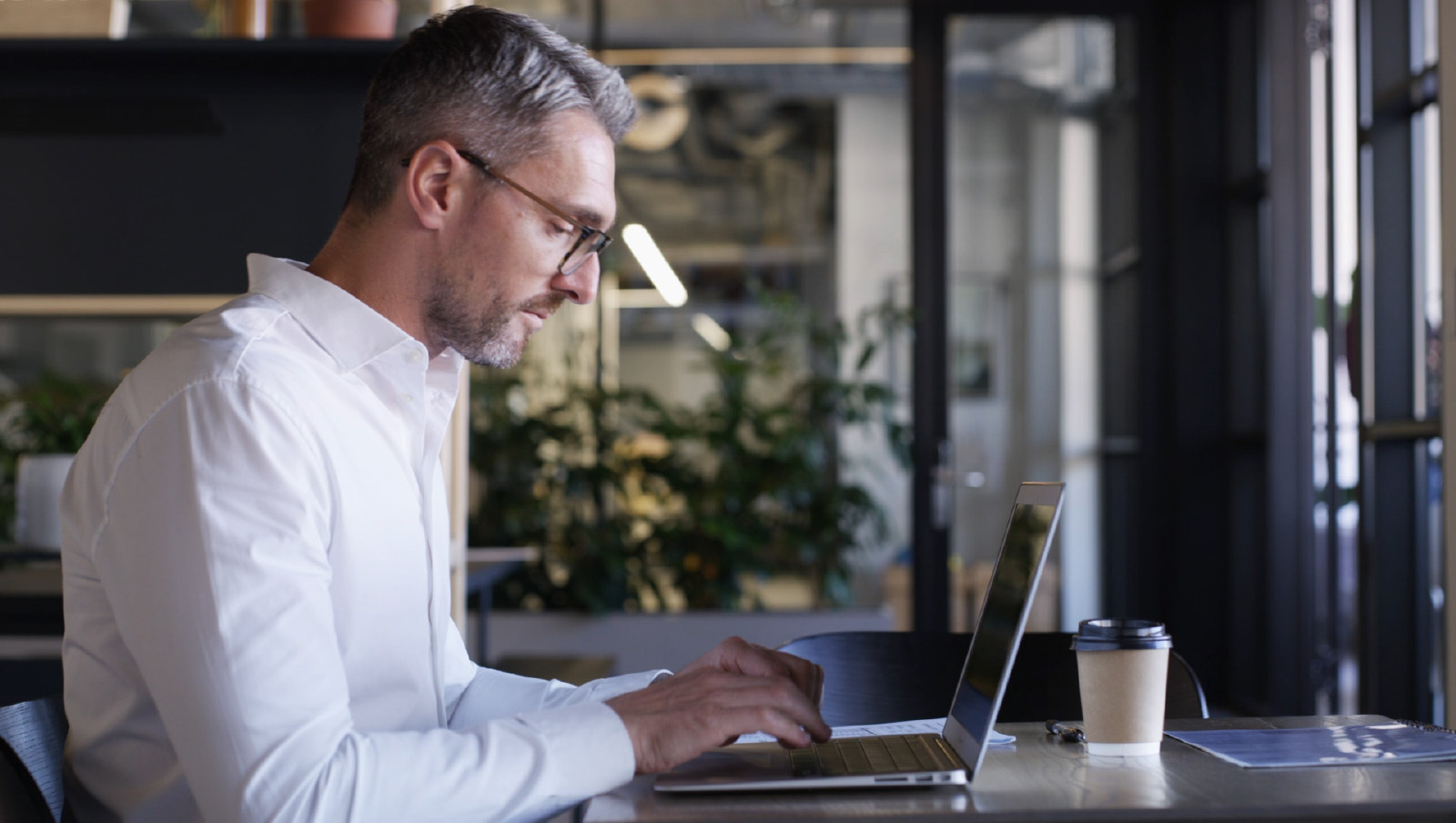 It's cost-transparent
We're transparent about costs based on our instant file-level page count. Our VDR provides value throughout the entire lifecycle of your company, not just a single transaction.
It mitigates risk
Assess risk, leverage auto-redaction and schedule audit reporting all within a virtual data room for financial services built with the highest levels of security.
Protect PII using secure, systematically burned-in redaction
Multi-factor authentication and 256-bit encryption
Availability of Information Rights management and dynamic watermarking
It's trusted globally
Venue has been chosen by the leading Fortune 1000 companies and global investment banks for M&A, IPOs, SPACS and other strategic transitions.
24/7 access to country-specific experts
Localized in 11 languages
Available in all Latin script languages, Japanese, Chinese and others in development
Let Venue's industry-leading technology and experts become an extension of your deal team.
Our SMEs ensure accuracy and lower risk with error-free file structuring and permissions. You can focus on the deal, and we'll manage the rest.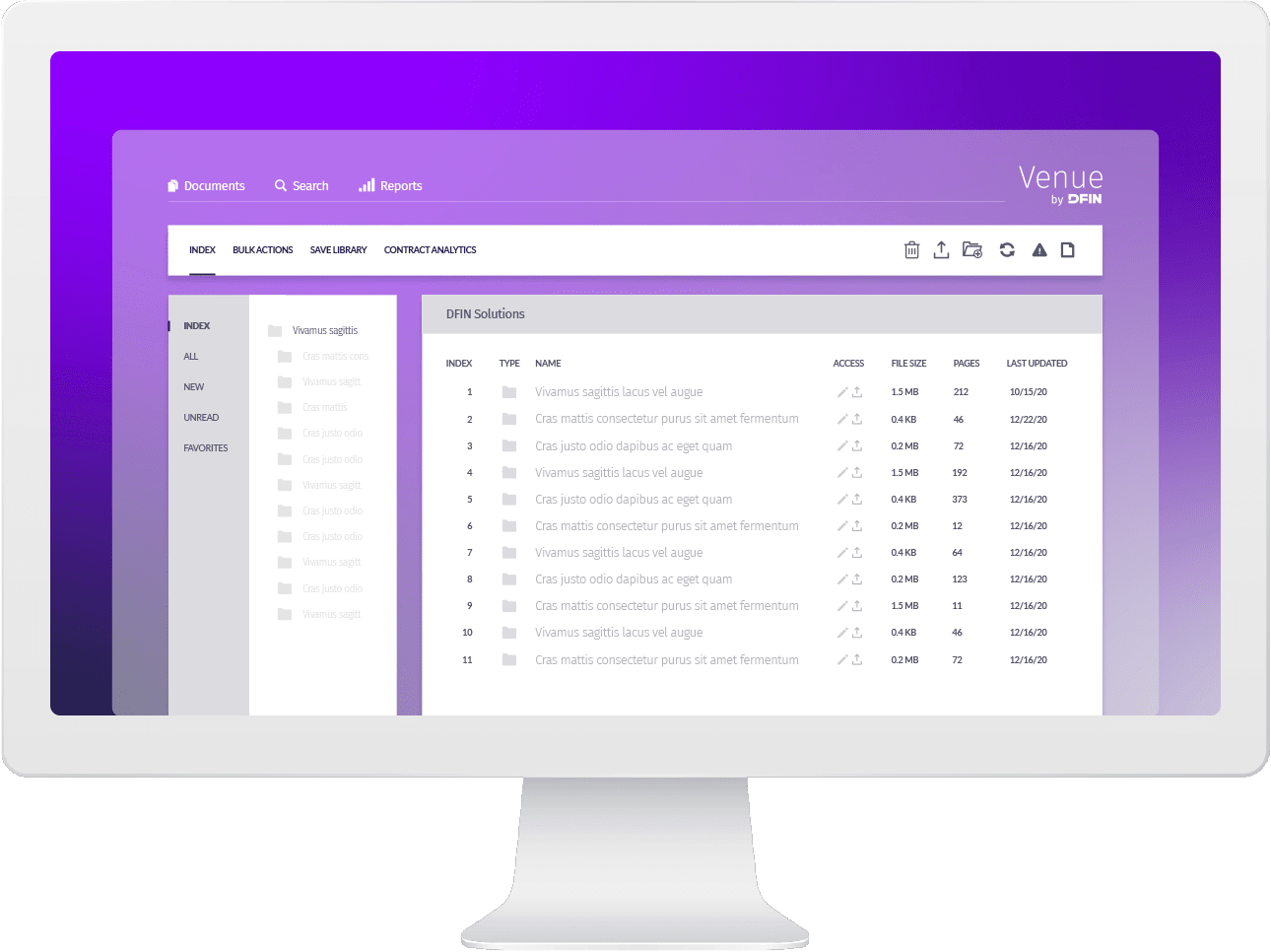 Regionally assigned project manager providing end-to-end guidance.

24/7/365 support from experts around the globe.

Trusted by Fortune 1000 companies, startups, investment banks, PE firms and more.
SEC Filings + Virtual Data Room = The Ultimate Dealmaker
Venue gives you a virtual data room with hyper-secure file storage, auto-redacted sharing and private Q&A workflows. Purpose built for financial reporting and SEC filing, ActiveDisclosure makes collaborative deal document development easy.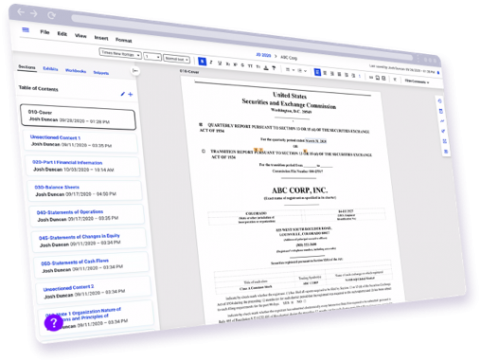 "The Venue team provided great service and they are super responsive. Happy all around."