Drive your M&A deals forward
Our leading experts and M&A software solutions accelerate deal closing and help you maximise deal value. Simplify the nuances of buying and selling businesses in a global market that requires you to act quickly while collaborating and executing confidently.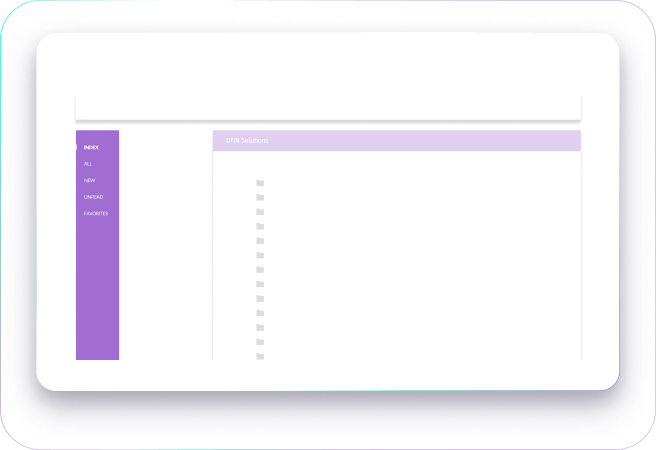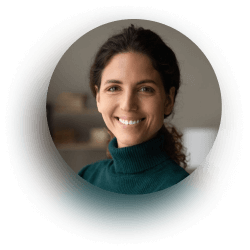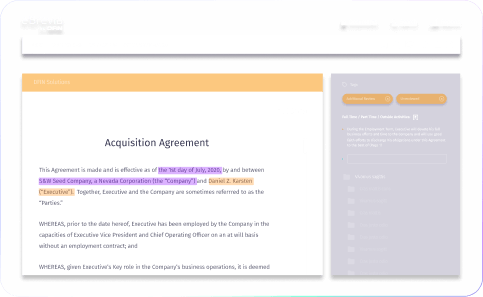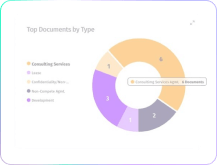 The global leader in M&A
Our M&A deal management software is trusted globally by Fortune 1,000 companies, Silicon Valley start-ups, PE firms, investment banks and government agencies to expedite the deal-making process.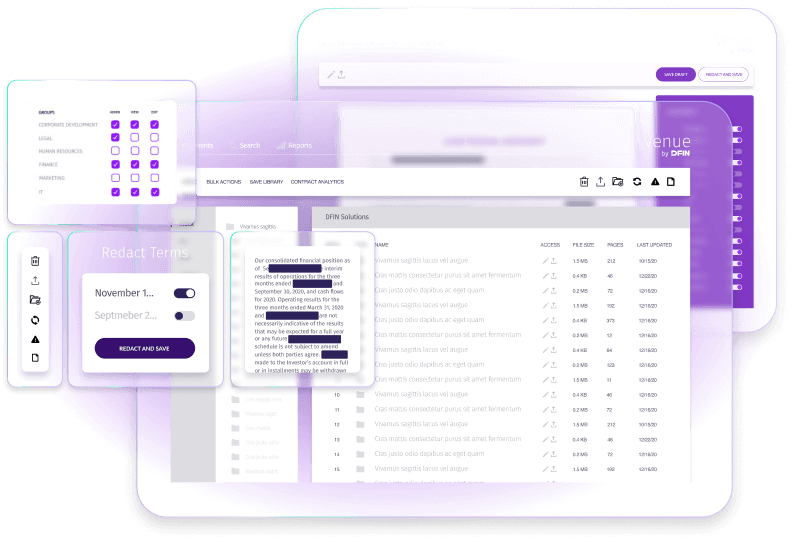 Deliver a deal with a one‑stop solution
Up to 50% of M&A deals fail to close. In the moments that matter, ensure you're leveraging the right M&A software and team of experts to optimise efficiencies, ensure collaboration and minimise reputational risk. This M&A due diligence software gives you the power to handle your merger and acquisition financial management with as little pain as possible.
Purpose-built M&A software for your needs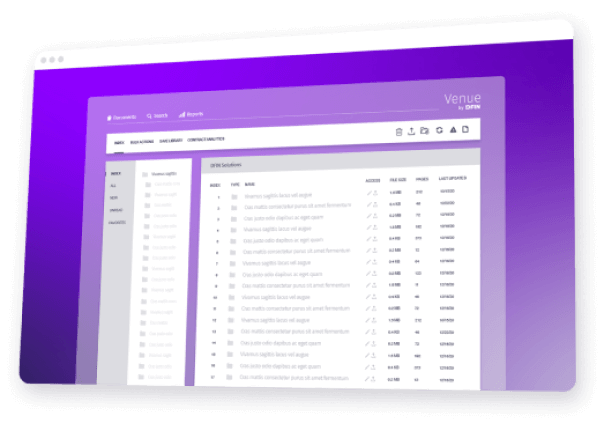 Secure & Analyse your Content
Secure your information and analyse your content with Venue, our customisable M&A virtual data room platform. Venue enables everyone on your team — from auditors, attorneys and bankers to internal stakeholders and company executives — to manage, track and share confidential merger and acquisition financial management information in real time, so you can confidently manage your deals and business transactions.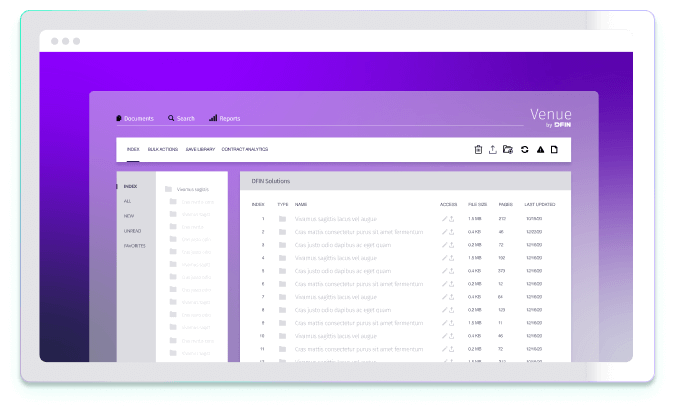 Protect & Mitigate Risk
Our industry-leading, four-level security data room platform guarantees protection at the infrastructure, application, document and personnel levels. Venue adheres to the industry's top security protocols and certifications.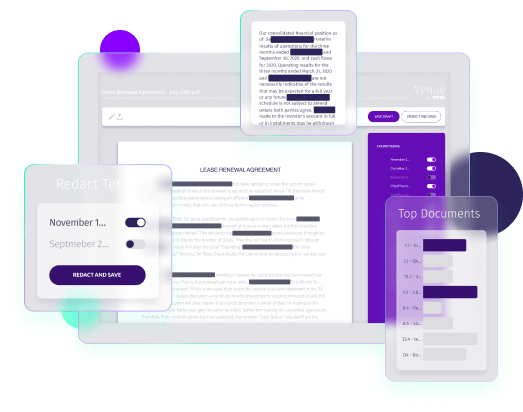 Organise & Analyse
With Contract Analytics' artificial intelligence technology, your contract review gets done faster and more accurately. Local service staff available 24/7/365 anywhere in the world ensures that you have the support you need, when you need it, to keep your merger and acquisition process on track and on time.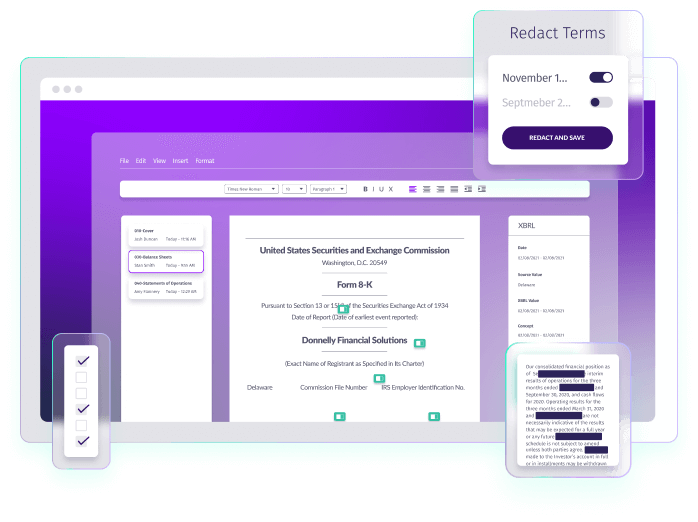 Streamline Investor Reporting
Maintain compliance while streamlining your investor reporting. ActiveDisclosure brings your team together across departments, functions and locations. Seamlessly create and share information and documents for all stages of the deal process — all while working in Microsoft Word.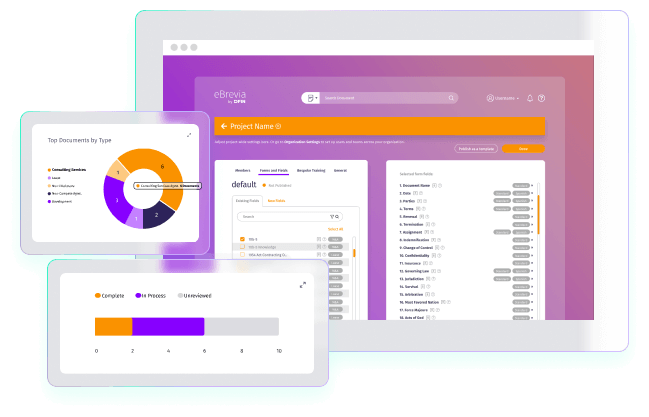 Accelerate Post Merger Integration
eBrevia's secure post-merger management platform leverages AI and machine learning to extract key contractual obligations and other data points directly from your documents. Benefit from greater speed and accuracy.
Venue checks the security boxes
Venue accelerates critical business moments securely. The DFIN Information Security Program helps to ensure data protection, enterprise cybersecurity and supply chain security using multiple standards, including:
ISO/IEC 27001:2013 Certification
AES 256-bit Encryption at Rest & in Transit
3rd Party Penetration Testing
Role-based Access Control (RBAC)
Intrusion Prevention (IPS) and Detection (IDS) Systems
Learn more
Meet your extended deal team
Our industry-leading technology and experts take the complexities out of dealmaking. Our 24/7/365 support lets you focus on the deal – we'll handle the rest. You can count on our M&A solutions and experts to make navigating the process simpler for your team.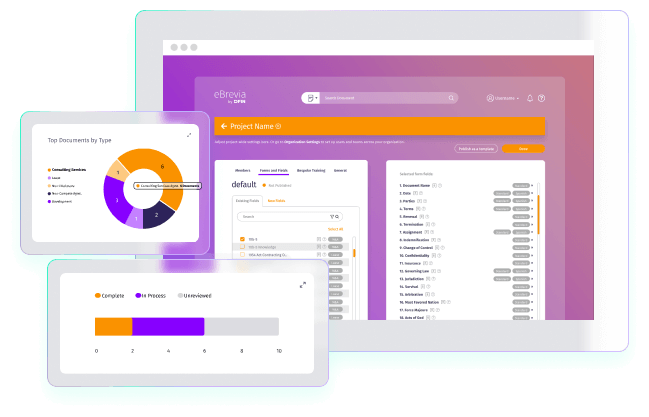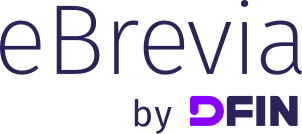 PRODUCT SPOTLIGHT
Analyse documents 2x faster
Manage up to 80% of contract analysis through eBrevia, automatically reviewing thousands of documents and extracting contract clauses. Populate due diligence summary contracts to decrease the time to close.
Explore eBrevia
Accelerate through every stage of the deal cycle
Develop a winning strategy
Evaluate and pursue target companies
Exchange company information
Sign the purchase agreement