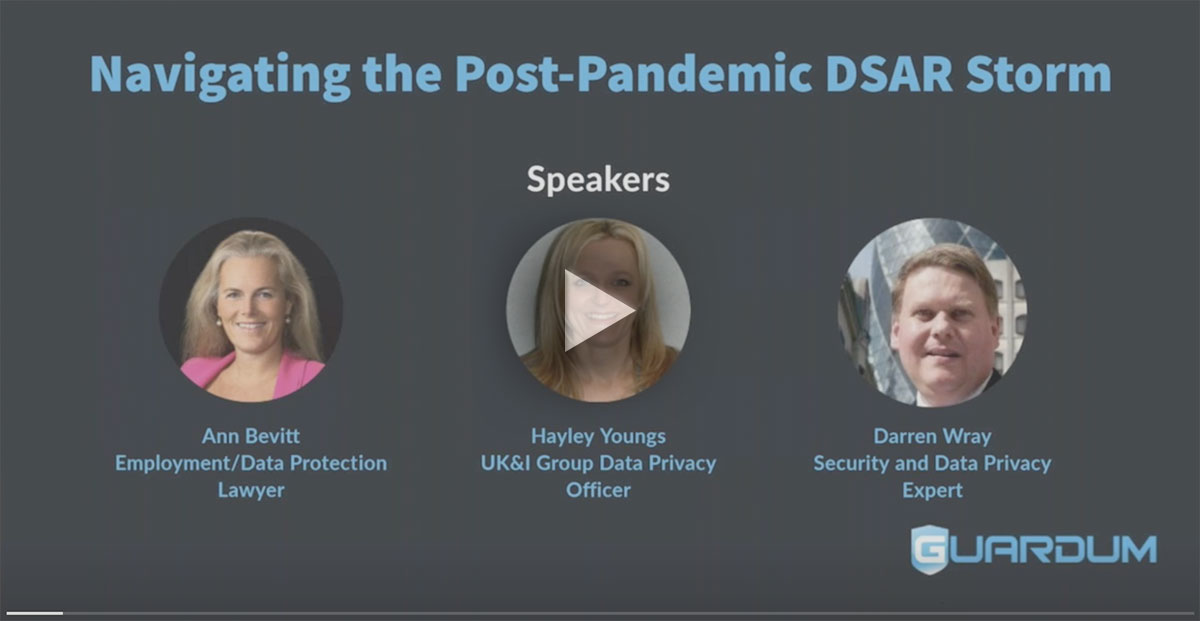 Guardum is now Data Protect Solutions.
Join us as we discuss the increasing number of Data Subject Access Requests (DSARs) being experienced by mid-sized and large organizations. A surprising number of these DSARs are from disgruntled employees (or their legal counsels) in response to COVID-19 pandemic furloughs or layoffs. Together, these factors compound to significantly increase the risk for organizations.
Hear legal, data privacy, and data security experts reveal important factors for tackling the wave of new, pandemic-related DSARs. Get practical advice to help reduce this burden and learn how technology can help to facilitate General Data Protection Regulation (GDPR) compliance.
Tune into our expert panel as they cover today's opportunities and challenges:
Understanding the top causes and effects of recent DSAR spikes
Comparing your organization's experiences with others
Finishing more DSAR requests within the 30-day timeline
Processing DSARs when they involve multiple departments
Changing expectations regarding privacy protection
Planning for future DSAR workloads with limited resources
Applying technology to maximize efficiency and costs
Speakers:
Ann Bevitt, Partner and Employment Data Protection Lawyer, Cooley LLP
Youngs, UK&I Group Data Privacy Officer, Global Workforce Solutions
Darren Wray, Security & Data Privacy Expert, DFIN