Accelerate the IPO&nbspProcess
An IPO can be a long, demanding and complicated process that will have long term implications for your company. Our IPO solutions and experts help you successfully navigate the intricacies and prepare for life as a public company. Are you ready?


Choose the Global Leader
When it comes to capitalizing on key moments in the IPO process, DFIN leads the way – and we have the numbers to prove it.
Over the last six years,
DFIN
Filed
700+
Traditional IPOs
Partnered on
70%
Traditional IPOs valued at
≥ $100M (US-based issuers)
Supported
majority of PE and
VC-backed IPOs
2021 Stats

80%
IPOs >$250M
(US-based issuers)
60%
IPOs >$100M
(Foreign issuers)
90%
Top 10 Healthcare IPOs
Client success
Some of the many global clients DFIN helped accelerate through the IPO listing process.

CASE STUDY
Execute a successful IPO with management and staff working from secluded locations Explore Case Study


CASE STUDY
How we helped a Cambridge headquartered biotechnology company accelerate its IPO journey See results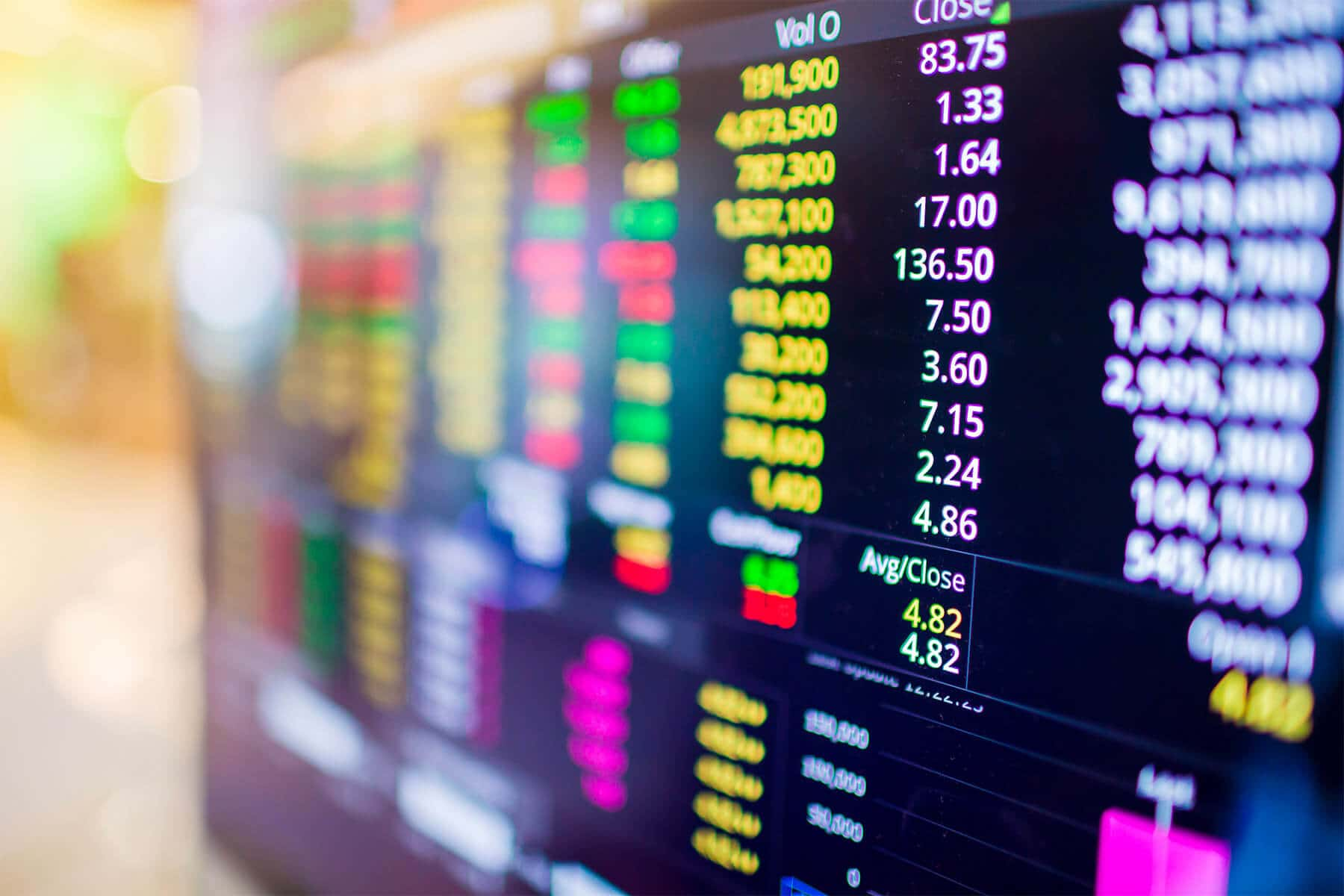 CASE STUDY
How we supported the hyper-growth strategy of China's leading e-commerce giant See results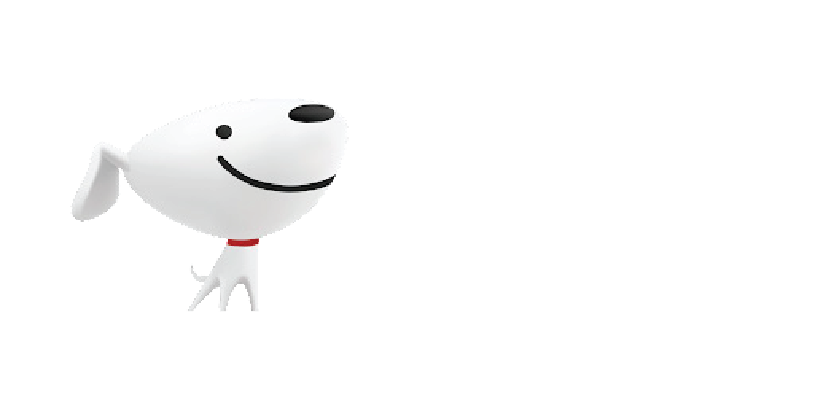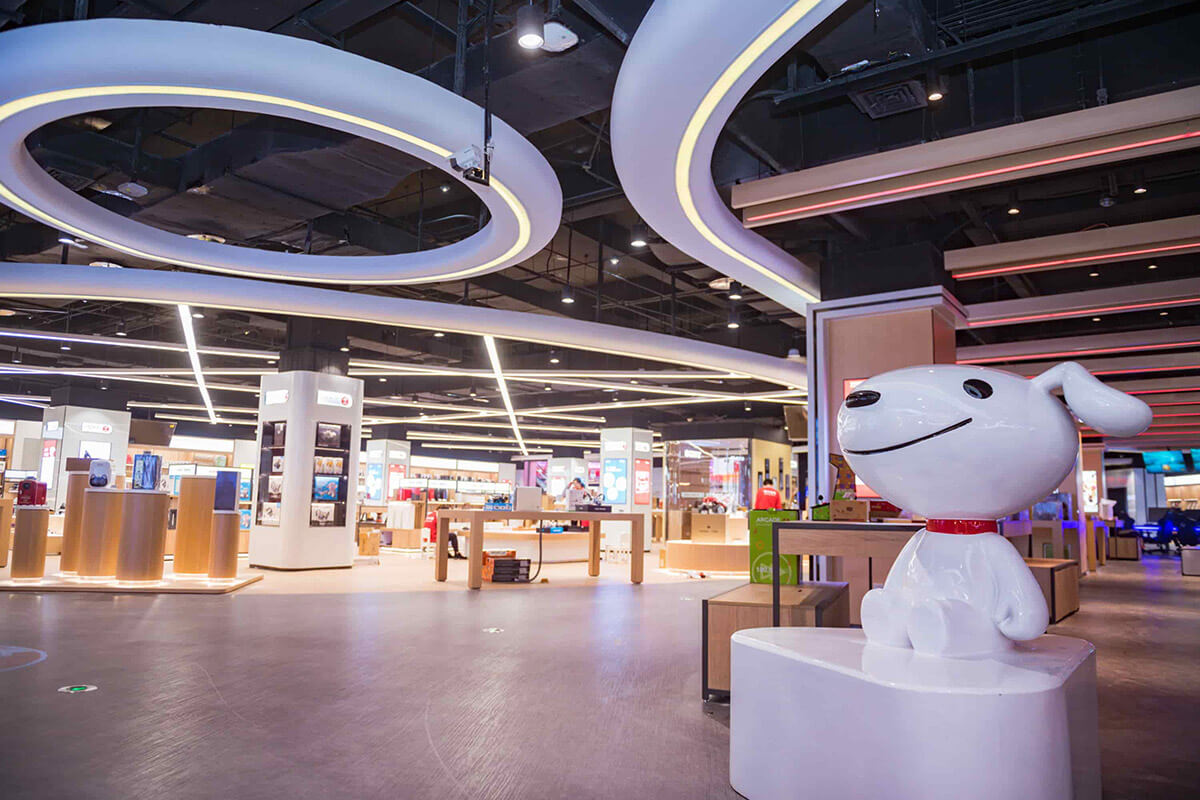 Preparation, planning and the right IPO software solutions are critical to success.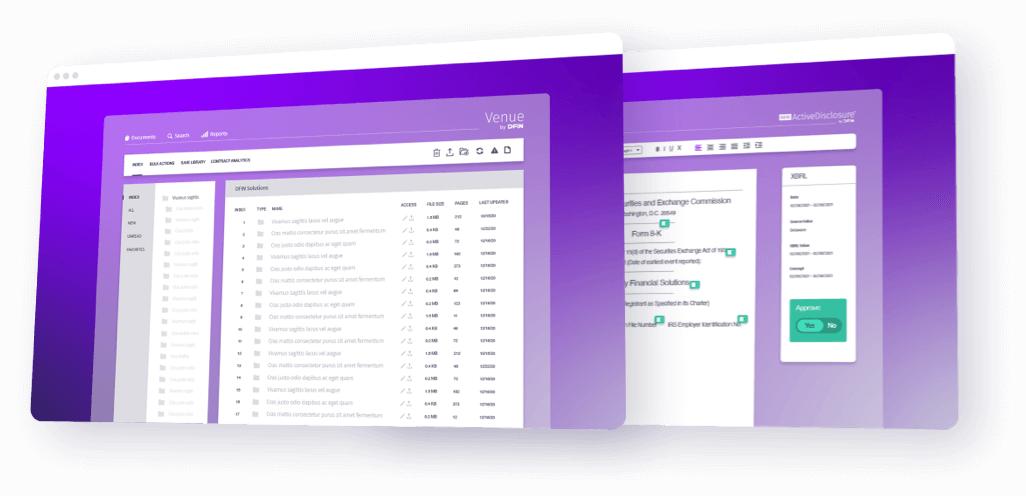 12-18 months
Prepare work plan for IPO readiness
Assess financial statements and evaluate audit firm
Assess internal resources (accounting, FP&A, legal, IR)
Evaluate need for third-party advisers
Consider structural decisions (e.g., corporate, tax, compensation)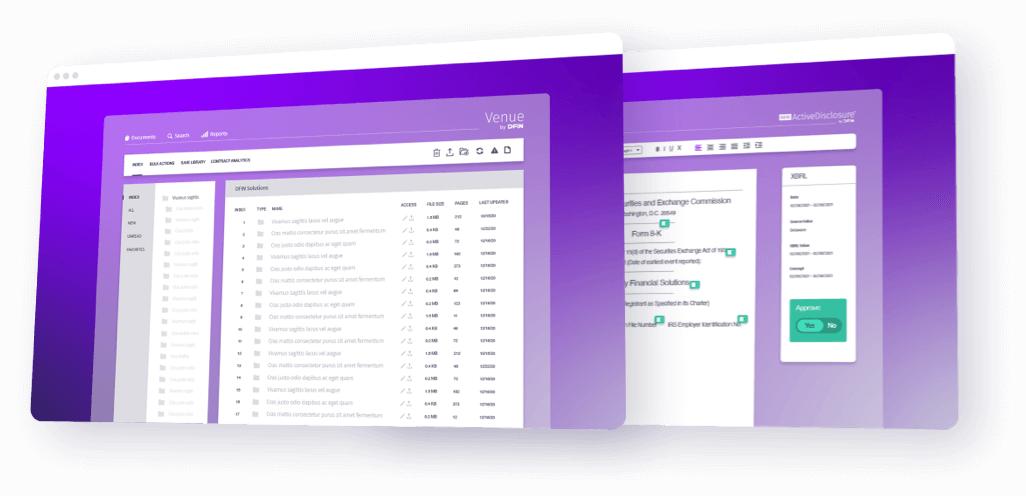 4-6 months
Engage lead underwriters
Prepare S-1

Equity story/investment thesis
Historical financial statements & MD&A
Risk factors/legal sections

Financial model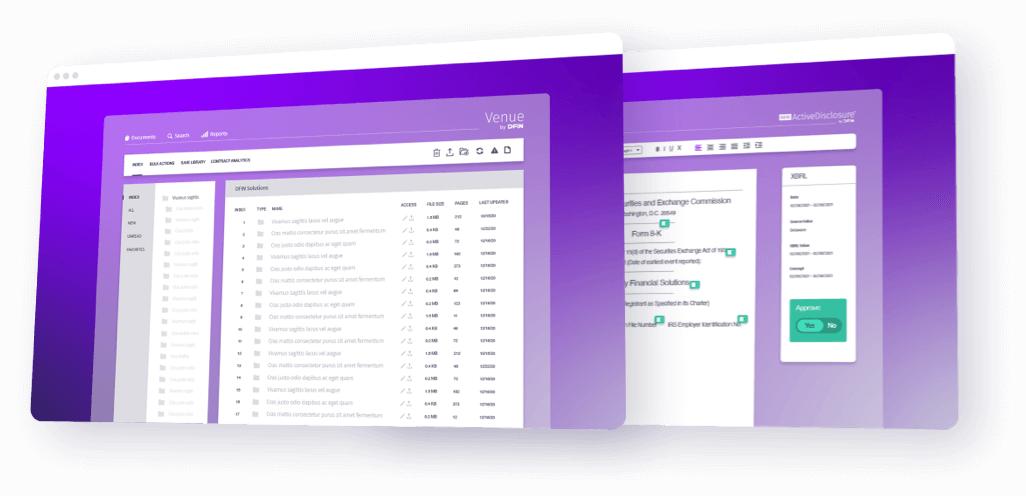 3 months
Confidential submission of S-1 and SEC review process (typically ~12-14 weeks)
Teach-in with syndicate analysis
Prepare roadshow presentation
Publicly file S-1 at least 15 days prior to launch of roadshow
Finalize IPO documentation

Organizational and governance documents
Listing application
Underwriting agreement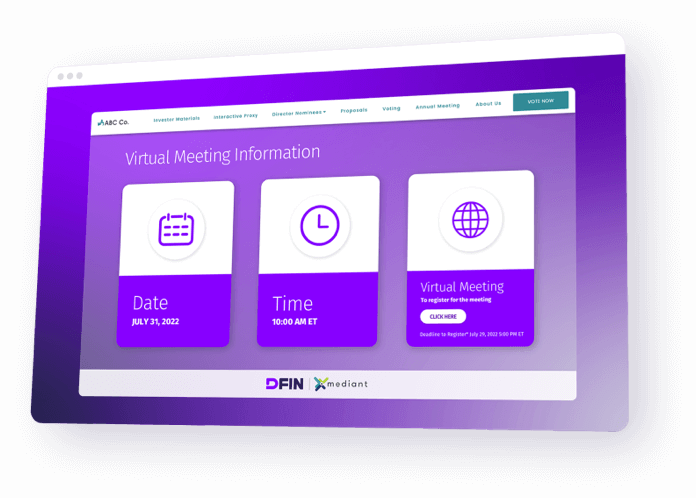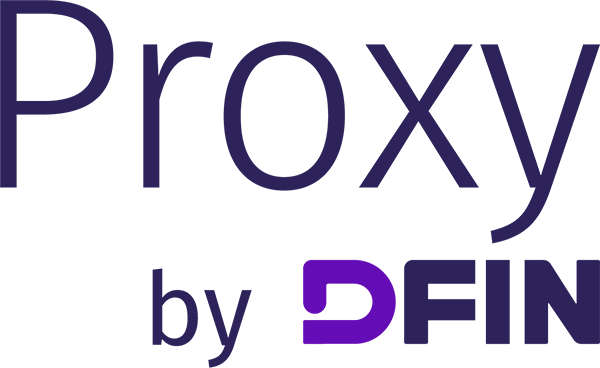 2 weeks
Finalize preliminary prospectus with indicative price range
Launch roadshow (typically 7-10 trading days)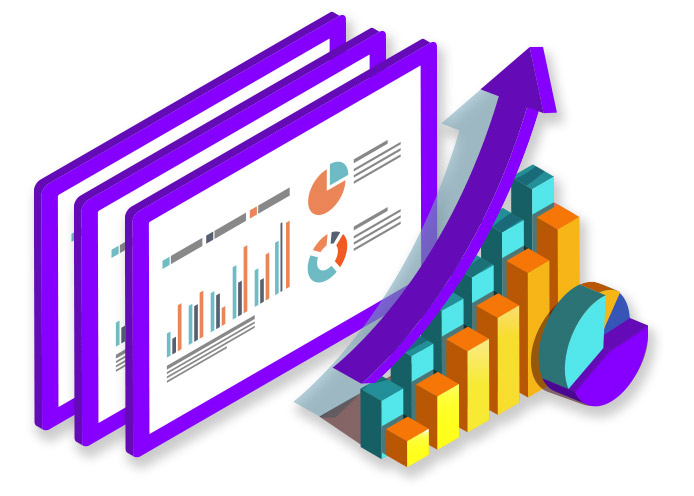 Trade Date
Price IPO after market close at conclusion of roadshow
Begin trading next day after pricing
Close third trading day after pricing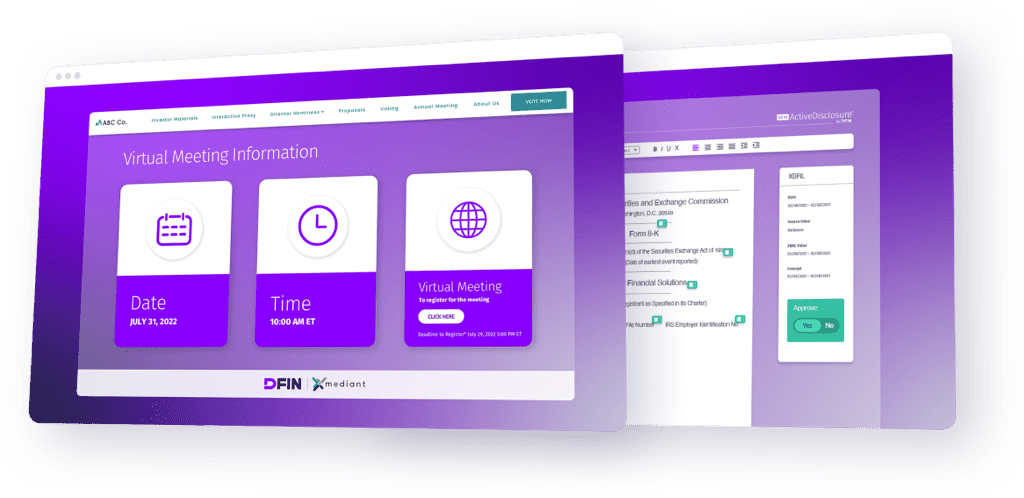 Regulatory Compliance and Reporting
Extensive quarterly reporting required
SOX compliance
Annual reports and recent events
Proxy Statement, Annual Meeting
Initial Public Offerings:
Considerations for Business Owners and Executives Taking Their Company Public
Download IPO Guide
Optimize for efficiency and compliance from day one

Unlock a stronger workflow with secure virtual communication channels and flexible technology. 

Access leading SEC experts 24/7/365 for guidance in the moments that matter.
Ensure accurate and audit-ready documentation with built-in compliance capabilities.

Prepare standout materials with advanced composition systems, on-demand resources and an unrivaled print platform.
Leverage our best-in-class partnership ecosystem
Get the Latest IPO Insights
✖