For any company planning to go public, the relationship between your outside counsel and your risk and compliance company is extremely important. A partnership that combines clear communication and leading technology helps avoid obstacles, including filing delays, missing SEC fees, document management issues, etc.
That's why DFIN has built enduring working relationships with the most prominent law firms in the business.
In fact, if you consider some of the top law firms responsible for taking companies public — Cooley, Latham & Watkins, Goodwin Procter and Wilson Sonsini — DFIN supported 75 percent of their IPOs, or over 250 of their clients' public debuts since 2018.
Couchbase (BASE), Confluent (CFLT), Toast (TOST), and Endeavor Group Holdings (EDR) are four of the companies who made their successful public debut this year with the support of these great law firms and DFIN.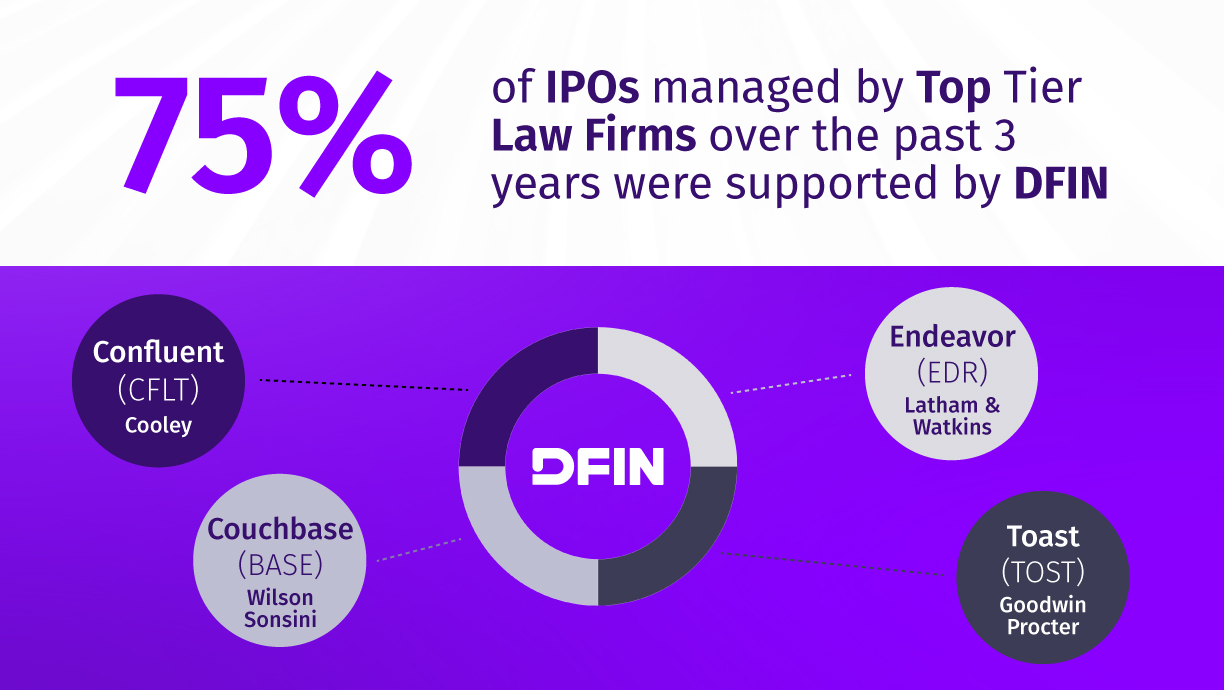 Our products and solutions include Venue Virtual Data Room (VDR), which is purpose built to accelerate the deal process while maintaining control throughout diligence, and ActiveDisclosure, which takes the complexities out of regulatory reporting with cloud-based filing software. Both help to provide the speed, accuracy, security, and expertise needed to bring companies to the public market successfully.
We look forward to fostering these important partnerships, contributing to successful IPO readiness, and promoting strong debuts in the capital markets.